| | | | |
| --- | --- | --- | --- |
| | | See the results of the 2015 Council Election. The Council you've elected will help to shape decisions over the next three years that will affect professionalism in teaching for years to come. | |
What does it mean to be transparent in the age of social media? CBC Ombudsman Esther Enkin will examine the question during her keynote address at the Annual Members' Meeting on June 4. Want to attend?

Highlights of the 2014 College activities will also be presented.

While you're there, attend the Margaret Wilson Library open house and learn how to use the library catalogue and databases.
| | | | |
| --- | --- | --- | --- |
| | | The College is engaging in a series of consultations which will help create a new AQ course on teaching LGBTQ students. It will focus on the knowledge base, skills and judgment that can be obtained through the AQ and how to support learning of LGBTQ students.Read Building Inclusive Schools. | |
Now Available for Blackberry 10!

Get the OCT Membership app to carry out transactions and access College services while on the go.

The app is also available for phones using iOS, Windows and Android operating systems.
Education Week – May 4-8 – Show your best!

This year's theme is Achieving Excellence: Moving Forward in Math. Celebrate the excellent work happening in your school every day.

Thinking of expanding your subject knowledge in mathematics? Find an AQ will help you find a course that fits your needs.
| | | | |
| --- | --- | --- | --- |
| | | Help to support new teachers while you drive, pitch and putt. The College's annual golf event to support teacher education scholarships occurs on Tuesday, July 7, 2015. Sponsor, play or donate. | |
Browse our Book Reviews Online

| | | | |
| --- | --- | --- | --- |
| | | The College's Book Review Archive is now live! Access hundreds of Professionally Speaking's book reviews and search by title, topic or issue date. Every book reviewed in the magazine is also available for members through the Margaret Wilson Library. | |
Changed locations?

As an Ontario Certified Teacher, you are required to ensure the College
has accurate information about your work/business address. If you are employed or self-employed in a position of authority over children or students or in education, please let us know your employer's address.
Ensure smooth delivery

Add info@oct.ca to your address book to avoid your spam or junk mail filters and to ensure smooth, fast delivery of Your College and You.



---
FREE RESOURCES
Margaret Wilson Library
Professional Advisories
Find an AQ
---
Read these articles in the most recent issue of Professionally Speaking: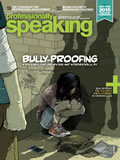 Twitter chat for teachers
Create apps in under 48 hours
Final Exam with JUNO Awards CEO Allan Reid